MISSION: KCBI Exists To Be A Discipleship Force In DFW.
Interesting Facts About Christian Radio
Christian radio has steadily increased in market share for more than a decade.
Christian radio audiences are primarily homeowners with an annual household income of over $75,000.
Advertisers benefit from a "halo effect" when they become associated with the family-friendly Christian format.
46% of Christian adults – representing over 69 million people – tune in to Christian radio.
Listeners age 12 and up spend an average of 9 hours per week with Christian/gospel radio programming formats.
About 90.9 KCBI FM
Format: Contemporary Christian Power: 100,000 watts Market: Dallas-Fort Worth & North Texas Potential Audience: More than 8,000,000 people KCBI's listeners are looking for businesses that share their values. Your affiliation with KCBI is like a trusted friend, and listeners trust the messages they hear on KCBI. KCBI has an intimate connection with your target audience. KCBI is by far the most cost-effective media source for reaching Christians across North Texas.
Learn More
KCBI's Impact
With 100,000 watts, KCBI reaches a potential audience of more than 8 million people. KCBI is America's leading station committed to Christian music and teaching programs, reaching more than 300,000 listeners each week in North Texas.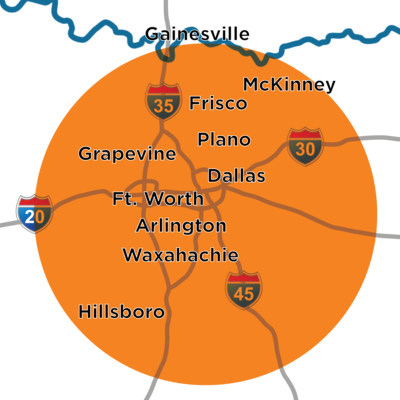 About Dallas-Fort Worth
It is the fifth-largest radio market in the nation – population 5.9 million
DFW is experiencing explosive growth – in 2017, DFW was the fastest-growing metro in the nation, adding nearly 146,000 people to its population
For years, Dallas has been among the nation's top ten fastest growing metros
DFW is home to more than 10,000 company headquarters, the largest concentration of corporate headquarters in the nation
Well over one-third of the DFW population is open to the Bible and is likely to be interested in Bible teaching
DFW is home to 2.5 million Bible-minded people
The world is coming to North Texas, and KCBI is prepared to serve them!
The characteristics and values of a KCBI listener are:
Values Education
Family Oriented
Attends And Is Involved In Church
Actively Involved In Improving Their Community
KCBI Demographics
Age Cell Composition (AQH Persons)
KCBI's Core Values
BIBLE-MINDED
God's Word is our guide as we communicate its truth in everything we do and say.
LOCAL
We serve the people of North Texas through gospel-centered community assistance, outreach and conversation.
AUTHENTIC
We express our personal faith and failures in heartfelt, connective and transparent ways.
INTENTIONAL
We are purposeful in every decision and action, with a commitment to excellence and results.
We believe KCBI is a movement of God to communicate the good news of Jesus' love & transforming power.
KCBI's All Teaching Channel
KCBI's All Teaching Channel is an on-demand media platform and remains committed to offering Words of Hope found only in the Bible from the nation's top Bible teachers. When listeners use the KCBI mobile app or listen online, they can listen to their favorite Bible teacher whenever they want!
Learn More
What Business Impact Partners Are Saying
"I cannot say enough about the team at KCBI. We have been swamped with business because they reach so many wonderful Christian Listeners."
-Holly Haggard, Fellowship Home Loans
"KCBI is the perfect radio station. We really enjoy working with everyone at the station, and we love serving the listeners as our clients."
-Randy Martin, IRSProb.com
"We have been part of the KCBI family since 1980, as Business Impact Partners. It has been a blessing to meet and work with so many of the wonderful listeners of this radio station."
-Steve Andersen, Centennial Roofing
"KCBI has been a lifeline to the ministry of Preborn and has gone above and beyond our expectations. The listeners of KCBI have shown that they care about life and the cause of the unborn by helping to literally save thousands of babies lives! Thank you to the amazing staff and KCBI family!! You are giving more than just life, you are giving love!"
-Sarah Wagner, Preborn
KCBI is by far the most listened to station in America featuring music and teaching and consistently ranks in the top 10 among all non-commercial religious stations.
Listen Now
Website
Traffic to the KCBI website has been increasing exponentially as more and more listeners are drawn to blogs, events, giveaways and more information about what they hear on-air. With options to listen to the all-music and all-teaching channels online as well, the KCBI home page accrues thousands of daily visitors.
14k+ impressions/month
Mobile App
For iOS and Android
KCBI's mobile app includes both music and teaching, and offers an interactive mobile experience. Users can now connect to KCBI through texting, calling, or leaving a recorded message. You can also sign up to be alerted when your favorite song is about to play – and set an alarm to wake up with songs of encouragement and words of hope!
Our mobile app has exceeded 40,000 downloads since its launch in 2018, and regularly exceeds 150 new downloads and 20,000 sessions served per week.
KCBI's app is currently serving listeners in all 50 states as well as 132 countries around the world, including Zambia, South Korea, Iran and Israel.
Social Media
KCBI has a very active and engaged following on social media, particularly Facebook. Our followers love to join in conversations, answer questions, and engage with content through liking, commenting and sharing.
Facebook | 90.9 KCBI FM
34K followers, 1000-1200 impressions/post
Twitter | @KCBI
2.6K followers